A Burwood Neighbourhood House Community Project, proudly made possible by volunteers.
Supporting the


Fighte

rs
Admiring the
Survivors
Honouring the


Take

n
And never, ever
Giving up


Hope

.
With thanks to the Groovy Booby Bus
NOTICE FOR ALL KNITTERS:

Due to the current situation, we implore that ALL knitters properly sanitise their hands and equipment prior to knitting, and prior to handling knitting needles, materials or packaging. Please do not knit the knitted knockers if you are feeling unwell. In addition, please ensure that any materials or knitting needles is kept away from pets. Knitted Knockers Australia always aims to have the highest standards of hygiene so we can continue to support breast cancer survivors now and well into future. Thank you for your understanding and co-operation.
Knitted knockers are FREE 100% cotton prosthesis hand knitted in Australia and provided to breast cancer women who have had a mastectomy. Kits are also available for people who like to knit. "Communities Helping Women". We set up kits for national quality control and our duty of care to the breast cancer survivor. Knitted Knockers Australia does not give out patterns only. Please email us all your details, name address, for a kit and your age,our ordinary bra cup size a.b.c.d.e.f.g.h.? if requesting a free prostheses.
** Please be patient when we have a media promotion(TV), responses come in by the hundreds! Please order only by either webpage, email or phone. (Double ups cause confusion) Reminders are OK.
Townsville Knitted Knockers Morning Tea
Some photos from the Townsville Branch Morning Tea in July.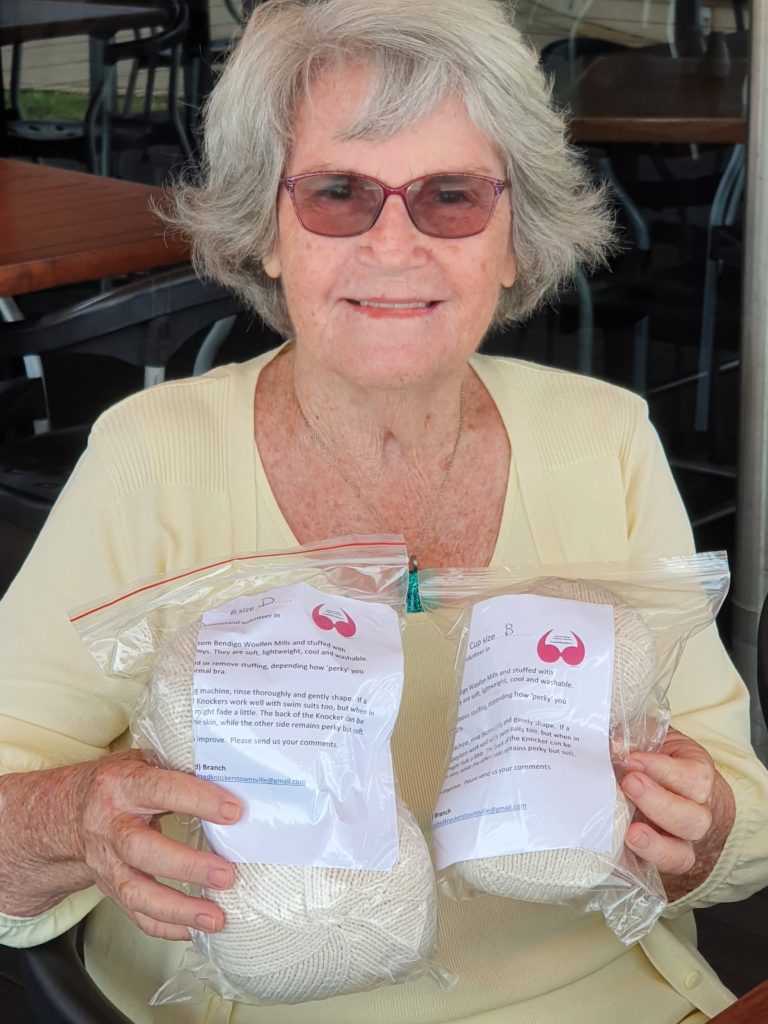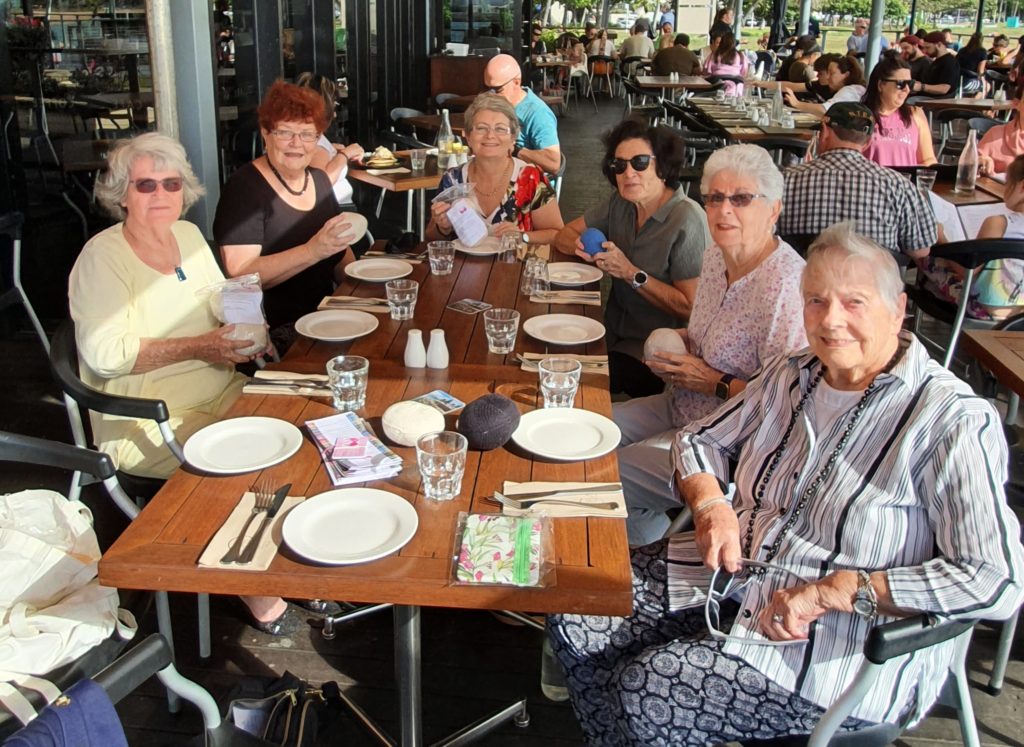 In light of the several weeks everyone has been spending in isolation, I think everyone could use a little light-hearted pick-me-up. 

Credits to The Starlets for their great work!
Merry Christmas and Happy New Year!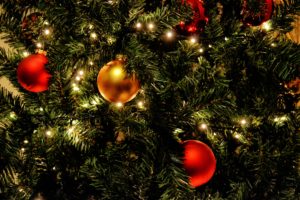 And like that, 2019 is over and the new decade is upon us. A very special thanks from not only from the Knitted Knockers Team, but also from Knitted Knockers recipients for everyone's generous donations of time and money that have been invaluable in keeping this project running. We wish you all a Merry Christmas and a happy and safe New Year, and we will see you all again in the new decade!
Regards,
Cheryl and the Knitted Knockers Team.
Knitted Knockers Perth Branch High Tea
Congratulations to Knitted Knockers Perth on their successful fundraising high tea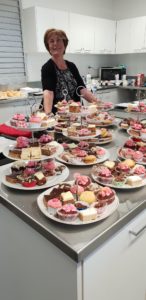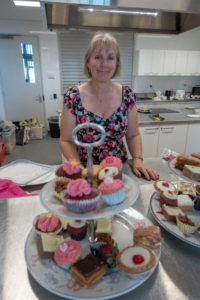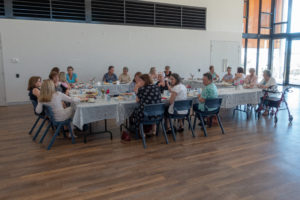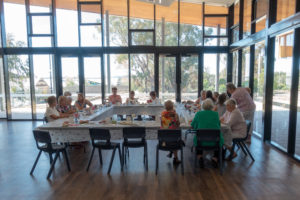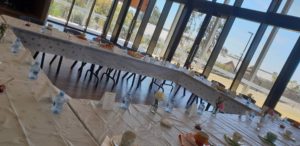 Cheryl's interview on the Channel 7 Show "House of Wellness"
Knitted Knockers at the Burwood Village Autumn Fiesta
Pam Young (left), a Knitted Knockers Volunteer and VIP, has knitted some wonderful toys to sell at our next fundraiser.

The event will be at Beaurepaires on Toorak Road between 1pm and 5pm on Saturday May 4th. Come and meet pam and Knitted Knocker's Founder (Senior Victorian of the Year 2018 recipient) Cheryl Webster and see and buy some of our knitted toys!
Knitted Knockers Perth Bake Sale
Thanks to Jan and Liz for raising an incredible $561 for KK Perth and helped spread the word. May thanks to them both!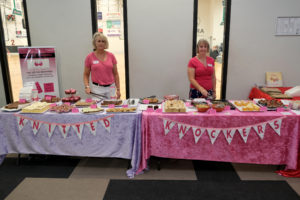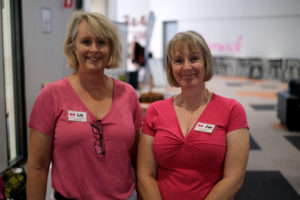 Happy Valentine's Day!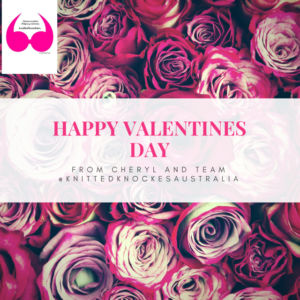 On behalf of Cheryl and the Knitted Knockers Team, we hope everyone has a fantastic Valentine's Day!
Knitted Knockers Geelong Branch Sausage Sizzle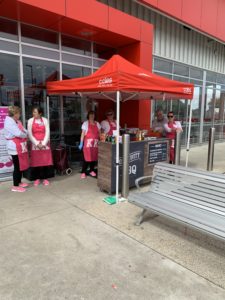 Massive thank you to Coles in Geelong from Knitted Knockers Geelong Branch, and the volunteers that day that help put this together. It was a great success and we cannot thank you enough!
Knitted Knockers Cancer Council Volunteer Award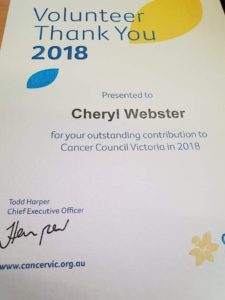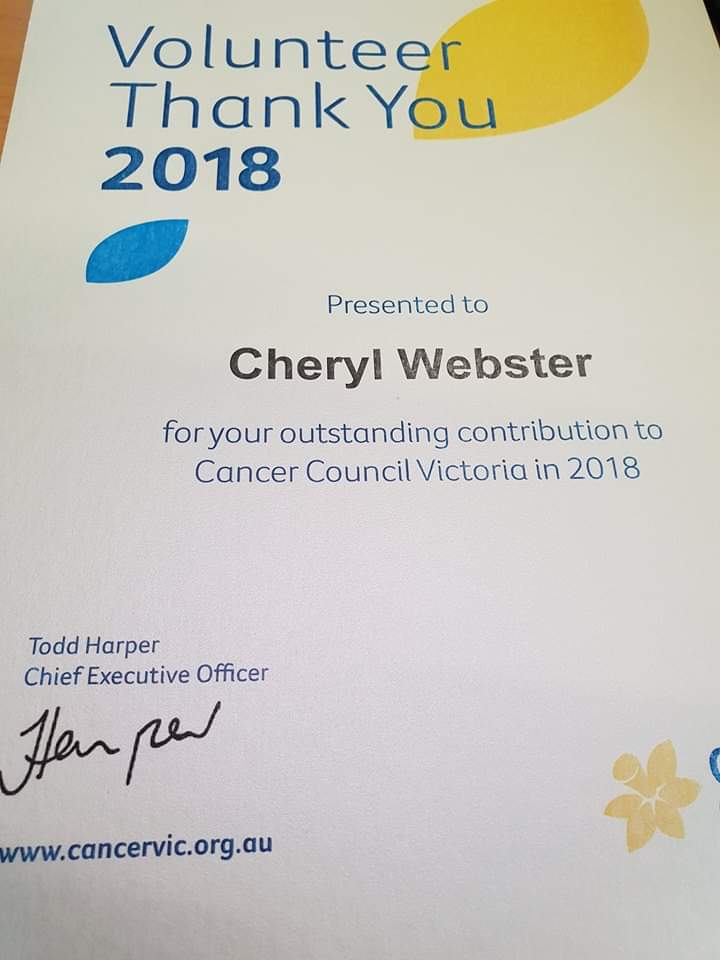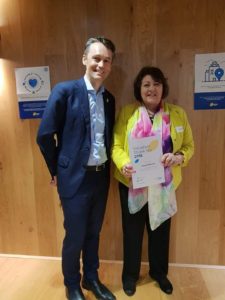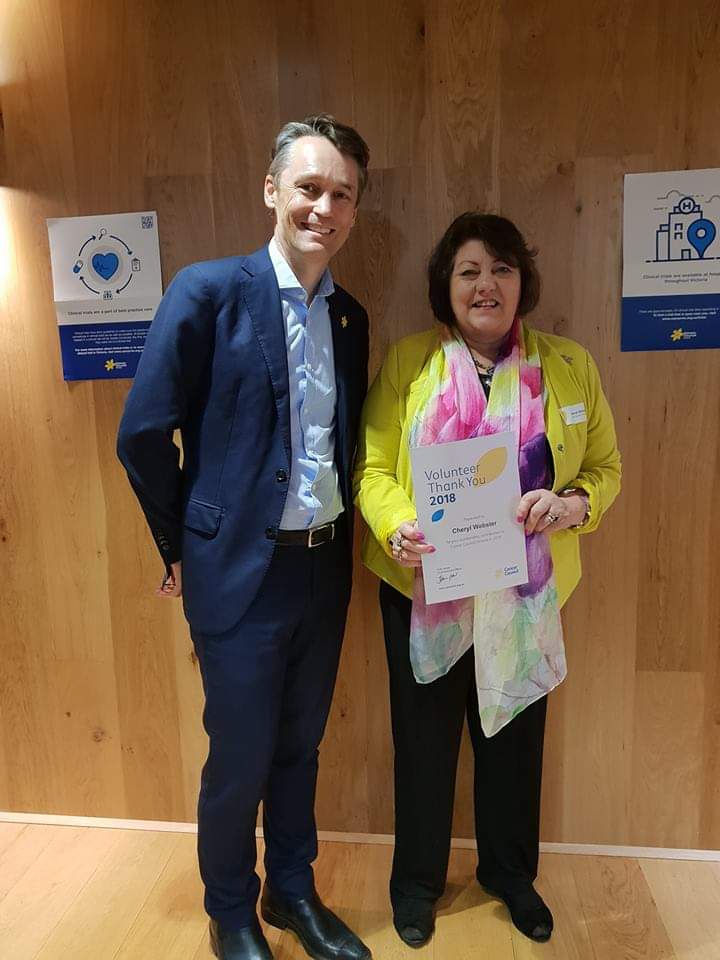 Cheryl was invited to attend the Cancer Council head office in St. Kilda for the volunteers morning tea, where she received an appreciation award for her efforts with Knitted Knockers.
"I had a good chat with the CEO about brain cancer research. My husband died 10 years ago from this horrible disease. I share my certificate of appreciation with all the volunteers in Knitted Knockers Australia. Thank you so much!!"
– Cheryl Webster
Cheryl Webster recognised by Victorian Senior of the Year Awards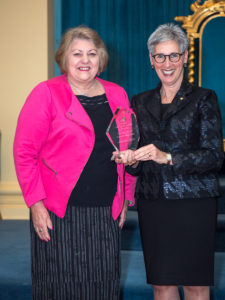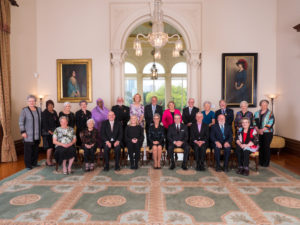 "I am truly honored to receive this award, but I dedicate it to all our branch leaders, their teams, our knitters and all volunteers who help in any way with this organization. This is your award too!"
– Cheryl Webster

Thank you to Seven News for their coverage of the Victorian Seniors of the year awards, and their interview of Cheryl Webster, for her hard work setting up and running Knitted Knockers Australia. We have received so many additional messages and emails thanks to this coverage, and we thank them so much!
Pink Ribbon Breast Cancer Morning Tea
Thanks to MP for Greenway, Michelle Rowland, for meeting Knitted Knockers Western Sydney branch for a delicious morning tea!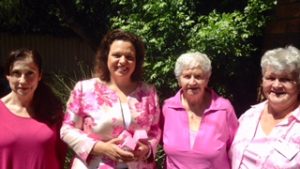 Vacancies: Join the Knitted Knockers team!!
We are looking for new team leaders at two of our branches. We have a vacancy for a leader at our Harvey Bay/Maryborough and Toowoomba. If you live in these areas, and want to help survivors of breast cancer? If so, please contact Cheryl Webster on burwoodn@bigpond.net.au!
Nundle Knitters Knitting Knockers at Nutmeg Knits!
The local knitting group of Nundle "The Click Clackers" will host a 'knit in' on Wednesday 23rd May for Knitted Knockers. The event will be hosted by Megan Carberry of Nutmeg Knits, a new wool shop in Nundle. The knitters will be making a pair of Knitted Knockers each which will be given back to us for quality control and then distributed to women in hospitals who have had mastectomies.
Inspired by the Gunnedah Ladies who hosted 'knit in' in a few week ago, the Click Clackers decided to do the same, with 12 local knitters now registered with us, ready to spend the day knitting, and no doubt chatting, for a cause which affects so many women.
Have a look at the Facebook event here:
https://www.facebook.com/events/1733473843342137/
Knitting will start at 9:30am on May 23rd, at the Mount Misery Gold Mine Cafe, Gill Street Nundle. We'd love to see you there!
My Giving Circle Charitable Survey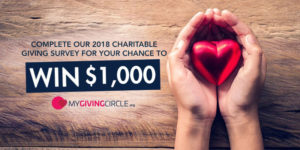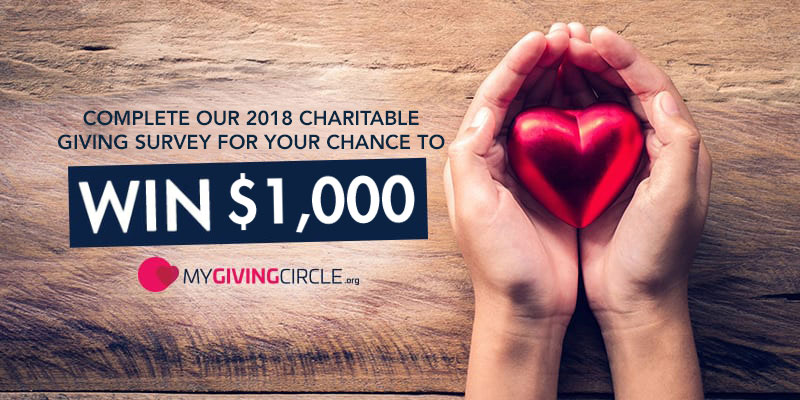 My Giving Circle is very generously donating $1 to a charity named by every person who fills out this survey by September 30th.
Simply enter your details, and name "Burwood Neighbourhood House" as your #1 charity
You can also make donations on your own to charities, and people who fill out the survey are eligible to win up to $1000 for their time. If you win the $1000, and name us as your charity, we will also win $1000.
NEWS ARTICLES FORM PAPUA NEW GUINEA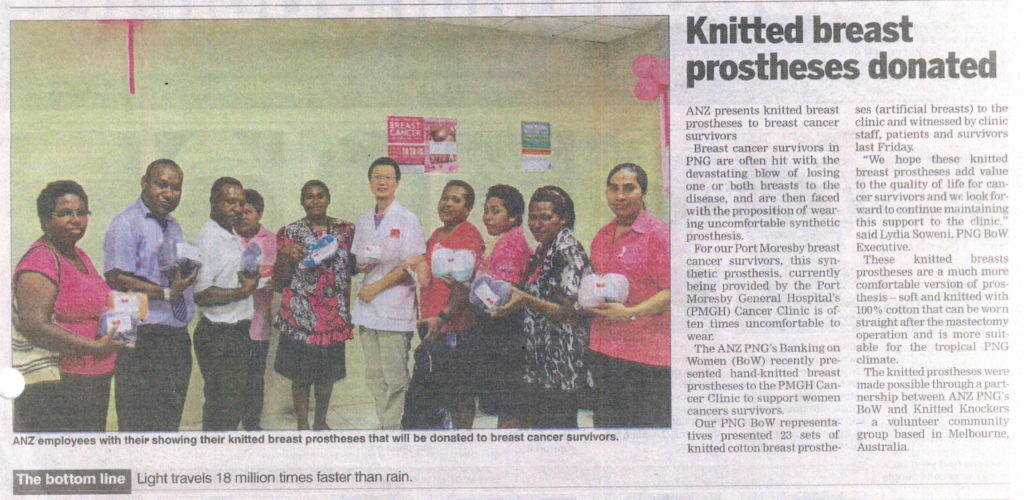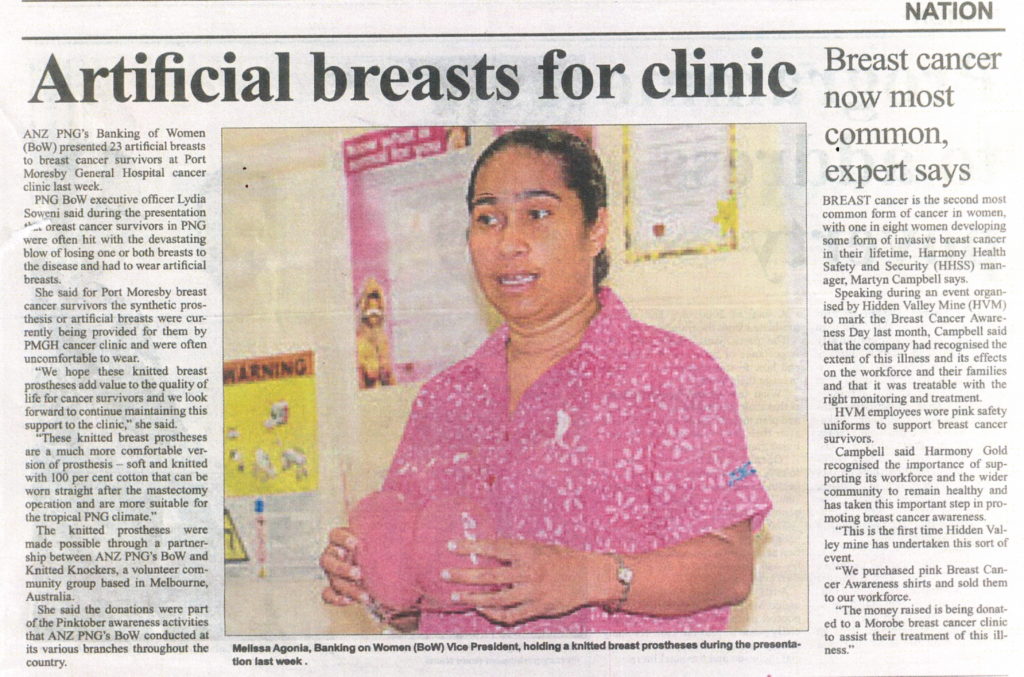 Happy New Year
We at Knitted Knockers Australia would like to wish you a wonderful new year and hope 2018 brings you all plenty of health and happiness. We look forward to a new year helping those that need our support.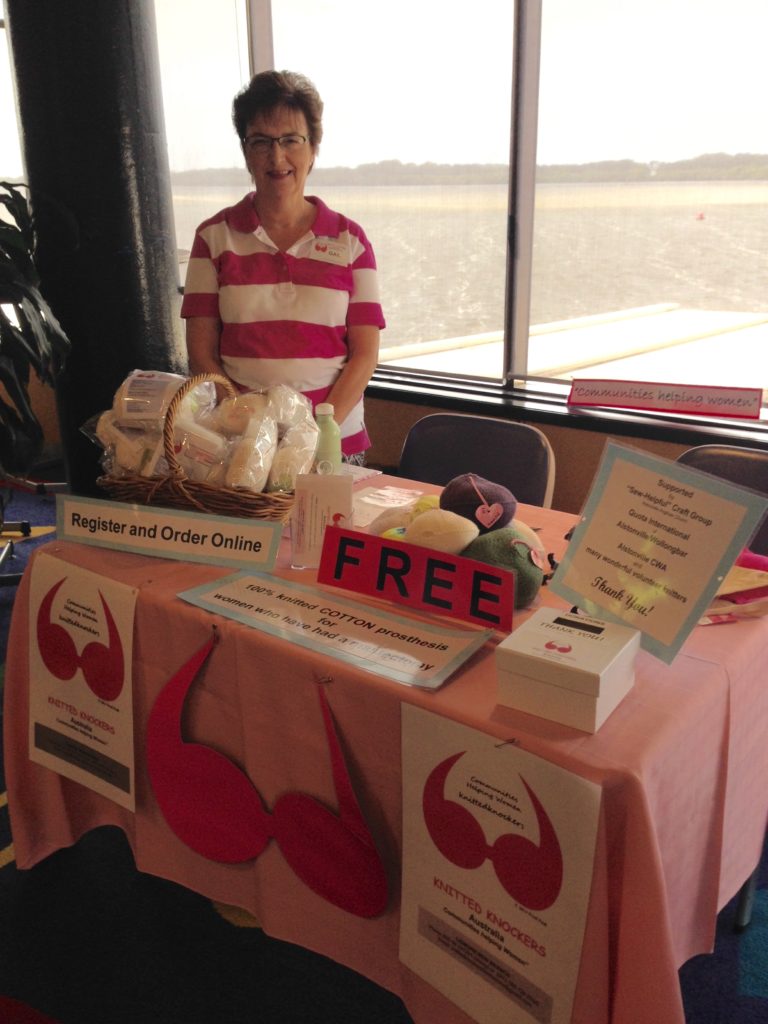 Ballina Breast Cancer Forum, 31st Oct 2017
Our stand from the Ballina Breast Cancer Forum on the 31st October. Thanks to Gail and all the wonderful people at the Lismore Branch for organizing this!
Breast Cancer Network Australia Summit 15th March – 19th March 2017
A fantastic few days at a great venue! It was so wonderful to meet these amazing women living their lives and helping others!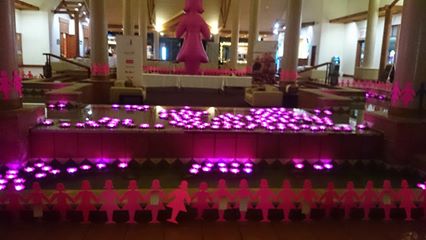 .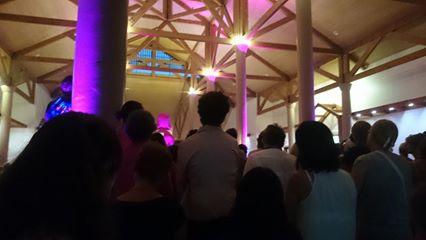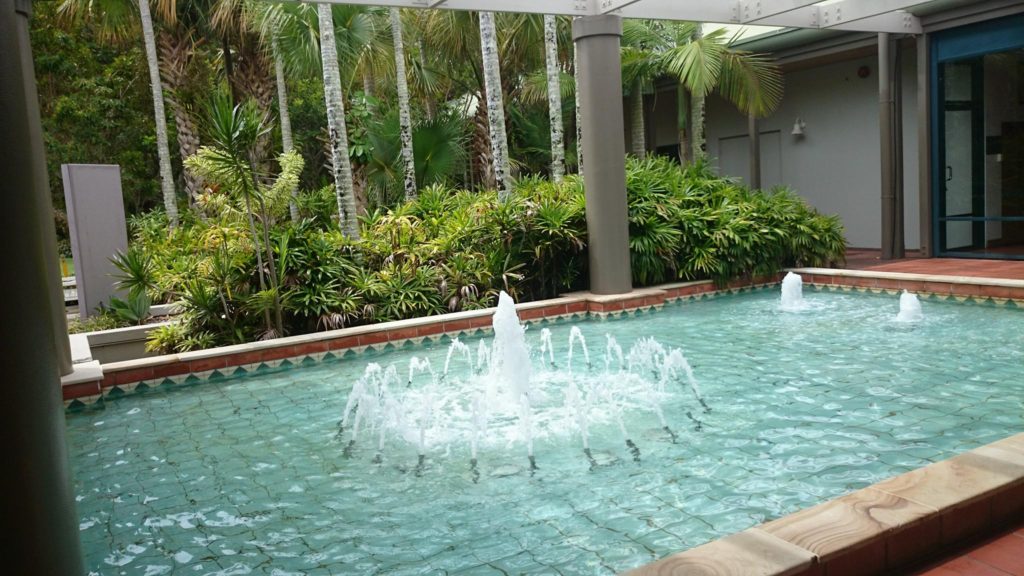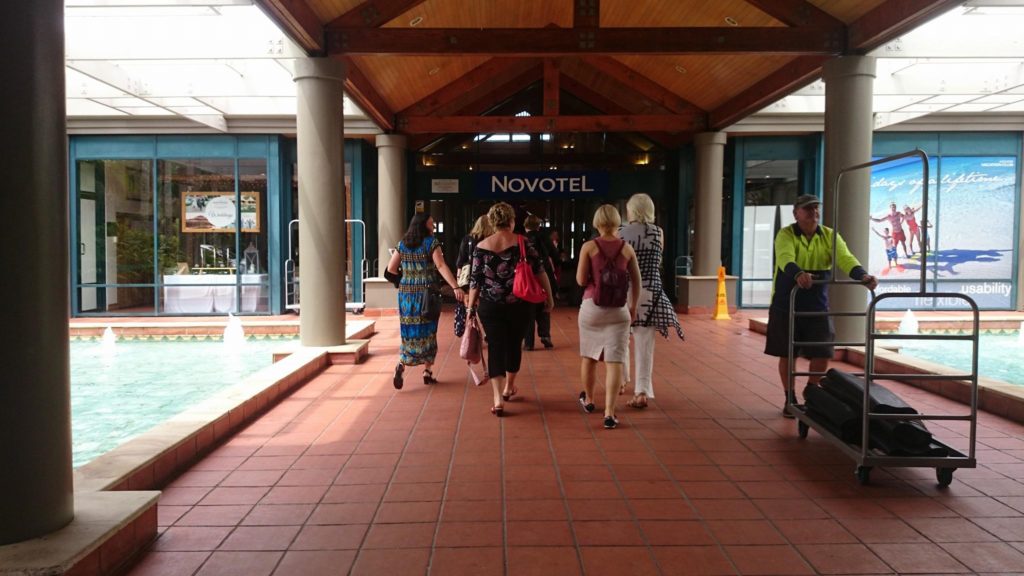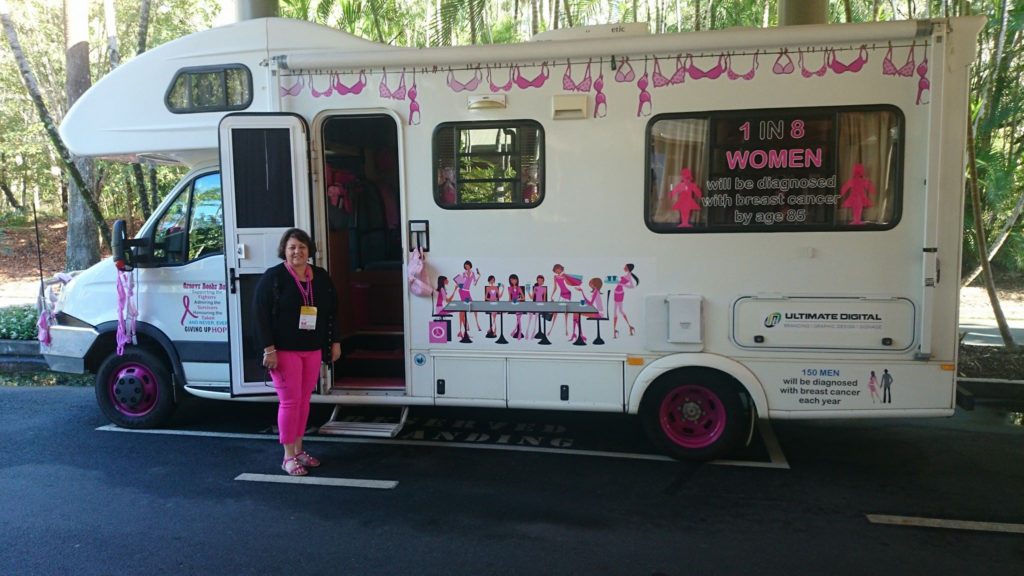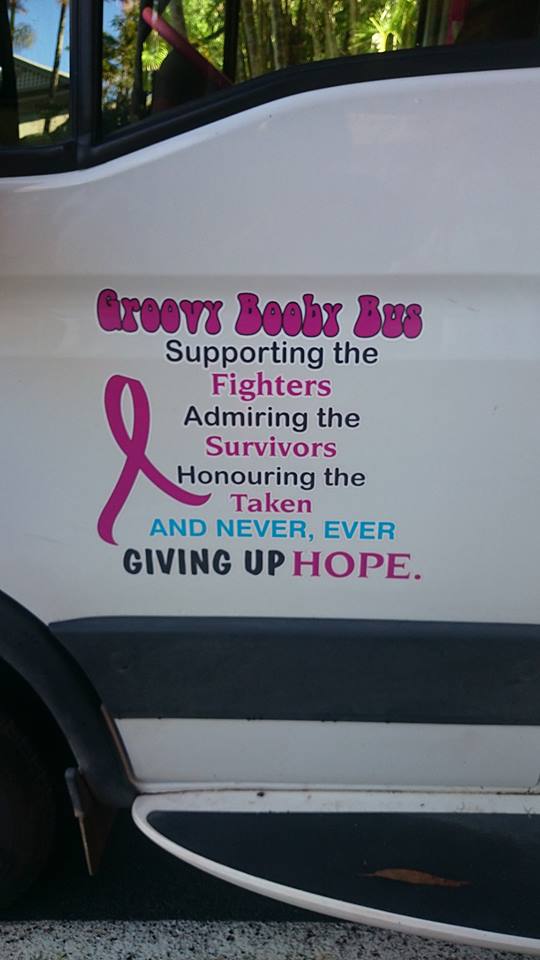 SBS World Wide News Saturday 13th June 2015
Knitted Knockers Australia thanks SBS and everyone who are supporting our community project
Sunrise interview
Registration Online is now available.
We are very excited here at Knitted Knockers Australia, as we have included a Sign Up button in our banner above. This is for everyone who HAVE NOT already registered to become a knitter a prosthesis recipient, a volunteer and or donate to keep our organisation going. To Register, click on Online Registration Form.
Head Office:Knitted Knockers Australia at Burwood Neighbourhood House (KK Aust a community project)
E-mail: burwoodn@bigpond.net.au
Phone: (03) 98086292 (If line is busy please leave us a message on our answering service)
Line 2 (03) 9888 9294
Address: 1 Church Street, Burwood VIC 3125.
Mel way ref: 60 H6